Founder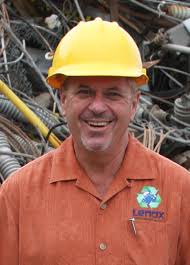 Alan Hornstein, owner and president of Lenox Metals, LLC, has more than 35 years of experience in the metals recycling industry. His experience and expertise in the field is one reason he was honored by the U.S. Small Business Administration as 2008 Small Business Exporter of the Year for the City and County of Honolulu.
Hornstein trained from the ground up at his family's recycling business in Connecticut, learning metal identification, packaging, buying, and marketing domestically and internationally, before joining GTE Corporation. There he was part of a task force responsible in identifying potential metals for recycling, and trained and graduated from GTE's Materials Management Associate Development Program.
He eventually transferred to GTE HawaiianTel, where, as Supply Management Manager, he developed and operated a metals recycling program that generated sales exceeding $2 million in one year. Later, he managed the telephone company's Supply Transportation Group; metals recycling, and waste management programs as well as its resale/reuse equipment program. He was selected to operate a start-up venture, buying and selling scrap metal as an adjunct business for HawaiianTel.
In 1988, he opened Lenox Metals to offer a range of cost-effective recycling services to the military and utility and construction companies in Hawaii and the Pacific Rim.
Hornstein is a member of Better Business Bureau-Hawaii, Business Industry Association, Steel Framing Alliance of Hawaii, Associated Builders and Contractors, and the National Association of Recyclers Institute. He donates a portion of his time to raise money for organizations such as Easter Seals and Autism Society of Hawaii.
Hornstein is a proud father of his son, David. He is a member of Temple Emanu-El. He is an avid golfer, enjoys kayaking and staying physically fit.